By Kevin Coughlin MorristownGreen.com
If you had asked us on Saturday to define ritornello or fugato, we would have searched a menu from our favorite Italian restaurant.
Thanks to Sunday's Bach to the Future We Go! concert, however, we now have a fighting chance of passing ourselves off as dilettantes, if not full-blown aficionados of classical music.
The Discovery Orchestra's peripatetic artistic director, George Marriner Maull, dissected Bach's Brandenburg Concerto No. 3 in G Major at Drew University in Madison without any anesthesia. It was surprisingly painless.
Fun, in fact, as he pranced onstage from player to player in the New York Baroque Incorporated ensemble, pointing out strettos, pedal points and cadences with a gleeful delight that bordered on subversive.
"Unison: The flavor that satisfies!" he declared, in his best game show pitch-man voice.
Maull has been decoding classical music for the masses with the Discovery Orchestra (formerly the Philharmonic Orchestra of New Jersey) for nearly two decades. His public television programs have garnered three Emmy nominations. An eight-part series, Fall in Love with Music, is scheduled to hit the airwaves next spring.
The Bedminster resident encouraged audience participation on Sunday, and shared some inside baseball about J.S. Bach, who knew how to kiss up to royal highnesses. (It's a shame they had no Discovery series to educate them; the estate of Bach's royal patron sold the Brandenburg scores for about $24, according to Maull.).
If classical music puzzles or scares you, mark Feb. 28 and April 17, 2016, on your calendar. Maull returns to Drew to lead Discovery expeditions into the mysterious worlds of Dueling Pianists and Beethoven's 7th, respectively.
On Dec. 11, 2015, meanwhile, Discovery hosts an Intimate Evening of Holiday Song & Spirit with the sparkling Brynn Stanley, who sings the MorristownGreen.com theme song on our videos and recently released her first album.
See Discovery's website (DiscoveryOrchestra.org) for details on all these events, or check our handy Morristown Green calendar.
There's our report. Now please excuse us while we practice our string crossing.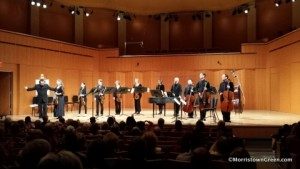 Discovery Orchestra Director George Marriner Maull takes a bow with New York Baroque Inc., at Drew University. Photo by Kevin Coughlin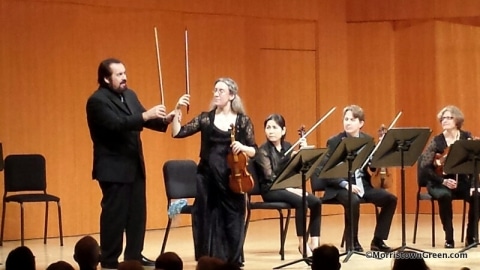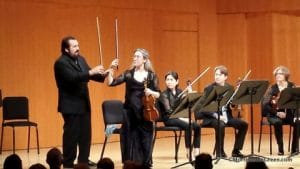 Cue cards help audience follow Bach's Brandenburg Concerto No. 3 in G Major, at Discovery Concert at Drew University. Photo by Kevin Coughlin