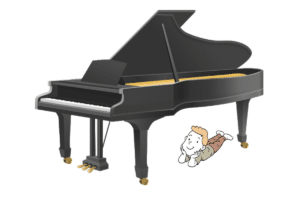 The Discovery Orchestra is launching a new social media initiative.  At a regular meeting of the Strategic Planning Committee (hear those three words spoken in an 'echo chamber' in your mind) – a committee as important as its name implies – we discussed our YouTube Channel. Committee member Adam Psichos noted the importance of regular posts on YouTube… something we'd neglected.  Adam reminded us that YouTube subscribers want to know that we're here and that we're thinking about them on an ongoing basis.
From the time we created our channel more than eight years ago, the majority of our posts have been Discovery Orchestra Chats. Each of these four-to-ten minute interactive chats is on some aspect of music listening, and in other cases are a series of chats on an entire movement of a larger work. Trailers from our television productions may also be found there. Adam continued: "George, the subscribers might really enjoy getting to know you better – personally."
It was then suggested that my written blog posts could be repurposed. We could record my reading these posts aloud in videos, not to exceed five minutes per episode, and release them twice a month on our channel. We quickly reached consensus around this idea. Next step? Sift through my nearly one-hundred fifty blog posts to date and determine which were suitable for this format, with tweaking as needed. And so we came up with ten of them to record in July, and hope to start releasing them twice each month in August or September at the latest.
This new video series would, of course, need a name. And that required a look back to the early 1950's! Really? I grew up in home that was filled with music. My mother Helen, an accomplished classical pianist, practiced for hours every day. As a very young child I liked to curl up under her grand piano while she played. Depending on the repertoire and just from the sheer volume of the sound, this could be a really intense experience, but always a rewarding one. It struck me – our new initiative for YouTube might well be called… Notes From Under The Piano. Stay tuned!