Date:  Friday, February 19, 2021  8pm – TO BE DETERMINED
The American String Quartet
Listen to this live Discovery Concert on radio station WWFM The Classical Network!
Join Maestro Maull and American String Quartet members Peter Winograd, Laurie Carney, Daniel Avshalomov and Wolfram Koessel as they explore the effervescent first movement of the String Quartet No. 5 by Mozart's contemporary, virtuoso violinist and champion fencer… Caribbean French composer Joseph Boulogne, Chevalier de Saint-George!
Stream from anywhere at wwfm.org or listen on 89.1 in the Trenton, NJ/Philadelphia area.
Sponsored by Dan & Gail Kopp and The Kosloski Family Foundation.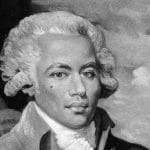 Joseph Boulogne, Chevalier de Saint-George