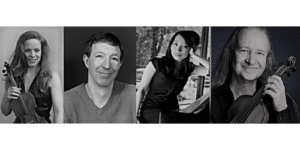 Friday, May 7, 2021 8:00-10:00 pm
The Discovery Orchestra Quartet
Listen to this live Discovery Concert on radio station WWFM The Classical Network!
Brahms and Tchaikovsky were born on the same day seven years and 2,000 miles apart. Their very different approaches to writing music will be explored by Maestro Maull and The Discovery Orchestra Quartet in this live radio broadcast produced in conjunction with WWFM The Classical Network.
Discovery Orchestra members violinist Rebekah Johnson, cellist Scott Ballantyne, pianist Hiroko Sasaki and violist Arturo Delmoni will perform.
Stream from anywhere at wwfm.org or listen on 89.1 in the Trenton, NJ/Philadelphia area.
Sponsored by Dan & Gail Kopp and The Kosloski Family Foundation.