When I met my wife Marcia Blackstone – we just celebrated the 42nd anniversary of our first date – her considerable accomplishments as a pianist were on full display. In addition to rehearsing with operatic singers every day in her studio apartment, she had two primo posts in the New York classical music scene.
As accompanist for the Opera Orchestra of New York, Marcia worked with artistic director and conductor Eve Queler and regularly rehearsed with some of the most famous singers of the mid-20th century. Marcia would casually mention to me that she had been "playing this morning for Spanish soprano Monserrat Caballé or American mezzo-soprano Marilyn Horne" … classical superstars!
Her other regular position was pianist for the New York Choral Society, working with conductor Robert DeCormier, and playing for other famous soloists – including pop stars. One of those early conversations in our relationship went like this: "At Choral Society's holiday concert at Carnegie Hall this Friday, Peter Paul & Mary will be the guest artists. Peter Yarrow is hosting a post-concert reception at his apartment on Central Park South. You want to come to the concert and the party?" "Well, yes, I think I'd like to do that!"
On that first date on March 11, 1979, I discovered something of which I'd been totally unaware. I met Marcia at the Opera Orchestra of New York where I was serving as a violist and assistant conductor. Even though we shopped at the same grocery stores, I had never seen Marcia in the neighborhood. So you can imagine my pleasant surprise, walking to her apartment on West End Avenue, when I realized that Marcia lived just a few hundred paces around the corner from my place on West 74th Street! I thought, "If this were to turn into a relationship… mmm, how convenient!" And the rest, as they say…
But there were other surprises in store. Over time I learned that Marcia was a dedicated puzzler and game lover. To this day she enjoys puzzles of all kinds – word puzzles, number puzzles. What seemed really odd to me was that she also loved TV game shows. I'd never known anyone who watched them as regularly as she did – everyday – before starting her workday with the singers. I finally summoned the nerve to ask her what she liked so much about them. Her response? She obviously enjoyed the games themselves – guessing the correct prices or the answers to questions. But Marcia also told me: "It makes me happy to watch other people win and to be so happy." I thought that was a pretty good answer.
One of her favorite shows was and still is The Price Is Right.  So it did not surprise me when one day she said: "If you're planning to visit your brother in California some summer, why don't I write for tickets to The Price Is Right.  "You will certainly be selected for Contestant's Row.  Most of the people in the audience are housewives from Southern California.  But a guy, a musician from New York?  They're going to pick you. I know it!"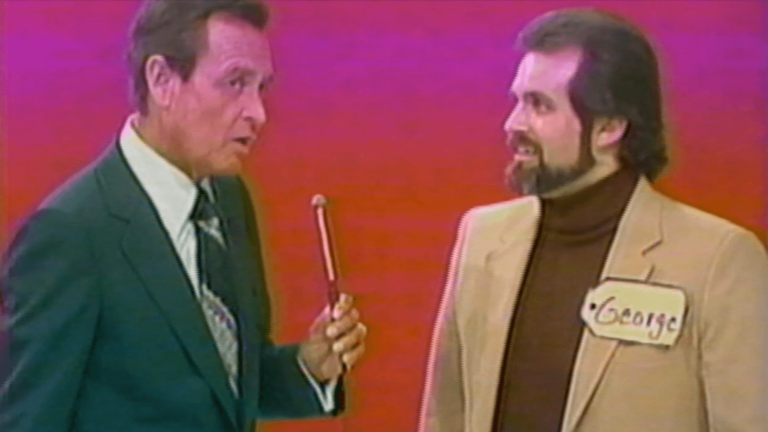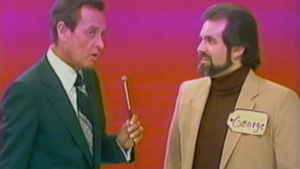 Fast forward to August 1982.  There we were… freezing in the super-airconditioned Bob  Barker Studio in CBS Television City, and wouldn't you know it.  In the very first group of people intoned by announcer Johnny Olson I suddenly heard:  "George Maull, come on down!"  Always prepared just in case neither of us were selected on the first day, Marcia had gotten tickets for two days. And the next afternoon? "Marcia Blackstone, come on down!"  I won a sewing machine, set of cookware (which we still use!) and a side-by-side refrigerator freezer. Marcia won a watch and a sewing machine.  We both lost cars!